Business seats
Reserved seats with an excellent view of the arena. The Business Tribune offers a bar (exclusive catering and VAT).


---
Prices per day;
---
Thursday; € 125,-
---
Friday; € 135,-
---
Saturday; € 210,-
---
Sunday; € 165,-
---
Box Friday / Saturday / Sunday
We are pleased to serve your guests a dinner on Friday and Saturday evening and a lunch on Friday, Saterday and Sunday afternoon. The culinariy interpretation will be as follows:
LUNCH
Etageres with:
- Rolls, sandwiches and wraps
- Salads in small tumblers
- Warm item
- Small chocolate eclairs
As of 3 pm a mix of freshly roasted nuts and small warm snacks.
DINNER
A three-course dinner served by Maison van den Boer including an assortment of drinks and snacks.
SUNDAY MORNING
Maison biscuits on the table at arrival. From 10 am small muffins, eclairs and Brabant sausage rolls on the table.
A lodge can accommodate 6 people at a VIP-table reserved for you. On friday and saturday nights, Maison van den Boer serves a 3 course dinner during the various categories. Dinner and lunch (sandwiches, hot items and salads) are served at the log table.
Price per lodge € 8,000, -
including catering (lunch, dinner and drinks) and excluding VAT.
There are also some logs available for certain time slots if you can not attend the whole event. A lodging for Thursday evening costs € 1,000 including catering (dinner and drinks, excluding VAT.).
For more information on availability
This email address is being protected from spambots. You need JavaScript enabled to view it.
.
Day sessions
Our facilities are at your disposal during the entire event. The three days are divided in three sessions: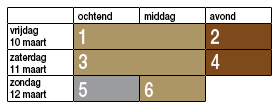 Make your Reservation
Being at The Dutch Masters with your company has attracted your attention? Then
This email address is being protected from spambots. You need JavaScript enabled to view it.
of your preference. We'll contact you as soon as possible