Anky van Grunsven new president Indoor Brabant, Gijs Bartels member of the board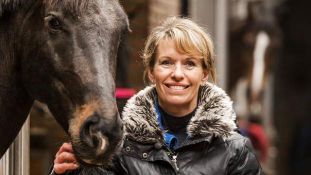 Anky van Grunsven is taking on the presidency of the board of the Indoor Brabant International Concours Hippique Foundation. After the tragic death of Gerrit Jan Swinkels on 25 May a highly valued and important inspirer was lost for Indoor Brabant. Over 40 years Gerrit Jan was involved in the growth and expansion of Indoor Brabant and since 2002 he acted as president. Gerrit Jan is still greatly missed.

Anky van Grunsven: "Indoor Brabant is my 'home' event. I have been riding here with great pleasure since I was 16 years old and have won many great competitions. As the new president I hope to ensure that all competitors, visitors, sponsors and all others involved will enjoy the event as much as I always do. I will never be able to match our recently deceased president Gerrit Jan Swinkels with his limitless knowledge and social competences but I will certainly try to be a worthy successor."

The board of Indoor Brabant will be expanded with Gijs Bartels, managing director of Academy Bartels and involved in many events such as Horse Event, Animal Event and Global Dressage Forum. "I have a deep sympathy for Indoor Brabant, and I don't think I have ever missed an edition. My whole famly has been active at Indoor Brabant in different functions and I feel honoured that I am given this chance. I love Brabant, I love the equestrian sport and I am looking forward to make a contribution to the most beautiful indoor event of the world."

Indoor Brabant's event director Marcel Hunze is happy and has good faith in the future of Indoor Brabant. "President Gerrit Jan Swinkels has been very valuable for Indoor Brabant. His involvement in the equestrian sport in combination with an enormous network and his charisma are unique. Indoor Brabant again can be proud to have Anky van Grunsven as president. We are happy that she is willing to use her knowledge and experience. Together with the board, with new member Gijs Bartels, we will continue our ambitious course which we developed with Gerrit Jan."

The other members of the Indoor Brabant board are Nicole van Doorne, Ton Nelissen and Mathijn van de Pas.