Indoor Brabant Public judges with SAP 'Audience Judging' app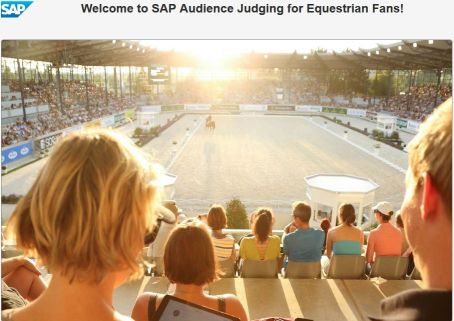 This year the organisation of Indoor Brabant offers its public the possibility to judge during all international dressage competitions. This innovative ' 'Audience Judging' app, has been developped by SAP in cooperation with
CHIO Aachen
.
The app was developed to increase the public's involvement in dressage and has also an educational function. The public can judge every performance and test their knowledge in the 'expert mode'. Immediaitely after the test the participants can compare their score with the judges and the other spectators. This way the visitors can learn and participate more in this beautiful sport and for events like Indoor Brabant it is a unique chance to increase the fan's involvement.
"We are very happy to welcome SAP as a partner and to present this innovative app, that will improve the experience of the public during Indoor Brabant," states Anky van Grunsven, president of Indoor Brabant. "SAP helps the public to better understand the judging and will increase the fan's involvement in our sport, because everybody can now judge the tests and learn more about the rules and the judging."
In addition to the possibility to judge the app offers also more information about the riders and horses and access to the FEI rules and criteria. And experiences can be exchanged.
"Due to the digitisation of society sport organizations experience more and more competition. Today fans can watch live competitions on the internet or television everywhere, filmed from every angle and inclusive replays of the most impressive moments," explains Jan-Willem de Koster, Innovation Manager of SAP Netherlands. "It is therefore important for the sports world to increase the visitor's involvement in the competitions. Indoor Brabant is now able to turn the public into a participant and to inform them better. Technology has given an extra dimension to stimulate the ticket sales and the increasement of the fan's involvement."
The app can be downloaded for free at
www.audiencejudging.com
at the start of the event.