Bad luck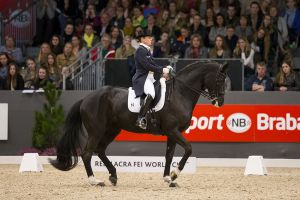 Sometimes things don't turn out as planned. This morning the Indoor Brabant show office received a call from Germany's top dressage rider Isabell Werth. She had to cancel her trip to Den Bosch because her horse Don Johnson had injured himself in his stable.

Isabell was very disappointed as she is big fan of Indoor Brabant and loves to ride in the Brabanthallen. She will be visiting the show, but only as the trainer of her stable rider Beatrice Buchwald.

Shortly after Isabell's call the next bad news was announced. Both Edward Gal and Germany's Fabienne Lütkemeier fell of their horse during training this morning, just before leaving for 's-Hertogenbosch. They too, are unable to compete.

Coincidence of course, but unfortunate for spectators and for the riders involved.

But Indoor Brabant can still present a real good line-up with, for instance, the 2015 European Championships bronze medalist Beatriz Ferrer-Salat from Spain and the Dutch top riders Hans Peter Minderhoud, Diederik van Silfhout and Patrick van der Meer.