Hans Peter Minderhoud wins WC Grand Prix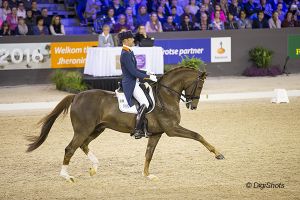 This afternoon Hans Peter Minderhoud won the Reem Acra FEI World Cup Dressage Grand Prix with. The difference with the number two, birthday girl Beatriz Ferrer-Salat from Spain, was only 0.480%. Holland's Diederik van Silfhout and Arlando N.O.P. completed the top three with a score of 75.760%.
The differences in the first part of the Reem Acra FEI World Cup Dressage competition were small and the Freestyle of tomorrow will be exciting for the last points for the Finale in two weeks in Gothenburg. Hans Peter Minderhoud's place for the Final is already secure. Although Edward Gal and Isabell were not in Den Bosch, but Hans Peter was happy with the result. "Although they were not I won with a percentage of over 76, which is really good. If I would have won with 73 per cent I would have been less happy. Especially the first piaffe and passage went well," said Minderhoud.
Full results