Minderhoud wins World Cup Freestyle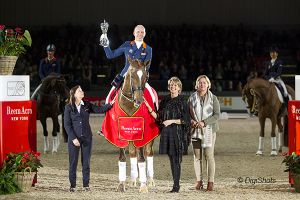 Hans Peter Minderhoud won the Reem Acra FEI World Cup Dressage Freestyle at Indoor Brabant and will travel to Gothenburg by the end of the month in great form. Minderhoud is in second place in the final standings of the Western European League. The same position as Diederik van Silfhout had this afternoon in the Freestyle with Arlando N.O.P. Spanish Beatriz Ferrer-Salat, the bronze medal winner at the European Championships in Aachen last year, finished in third with Delgado.
"I hope to sit behind the winner's cup again in two weeks time at the Final in Gothenburg," said Hans Peter afterwards at the press conference. "I know the scores of Diederik and Beatriz and I really wanted to win. My Freestyle was perfect. Glock's Flirt is a super horse who really tries his best for me." After the World Cup Final (25-28 March) Glock's Flirt will have a rest. I will ride Glock's Johnson N.O.P. during the outdoor season and after Flirt's break I will take him to the selection competitions too. ". Minderhoud started his career as groom of Anky van Grunsven and today Anky congratulated him in her role as show president of Indoor Brabant.
Diederik van Silfhout, who takes eight place in the final standings will not travel to Gothenburg. "Arlando N.O.P. will have a well deserved break untill Rotterdam. I want to safe him for Rio de Janeiro," explained Van Silfhout, who was very pleased with his Freestyle. "Arlando gave me a fantastic feeling and was a lot more relaxed than a few weeks ago in Amsterdam."
Beatriz Ferrer-Salat, fifth in the final standings, is also skipping Gothenburg. Delgado will do some smaller events in Spain in the coming period.
Full results