Houtzager takes VDL Groep Prize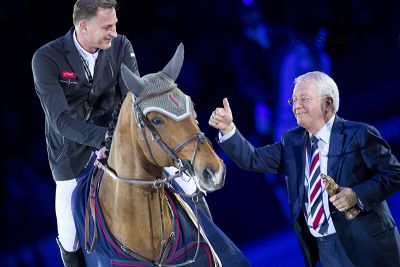 Marc Houtzager was the fastest in the main class of Friday evening, the VDL Groep Prize, a table A competition 1.55m. Houtzager crossed the finish line in the jump-off in 36.17 seconds with the KWPN gelding Sterrehof's Calimero (v. Quidam de Revel).
Marcus Ehning, first to go in the jump-off, set a very fast time and the riders after him seem to have problems to better his time of 38.54 seconds with Gin Gin van het Lindenhof (by Chin Chin) . Jur Vrieling was the first to go faster than Ehning with Glasgow van het Merelsnets (by Nabab de Reve) with short turns and taking some risks: 36.61.
But he did not enjoy his lead for very long. Marc Houtzager showed it could be done even faster with Sterrehof's Calimero and took the 15,500 first prize home.
Fourth place went to France's Pénélope Leprevost with Vagabond de la Pomme (by Vigo d'Arsouilles) followed by Maikel van der Vleuten and VDL Groep Idi Utopia (by Quasimodo Z) in fifth place
Full
results
(Source: De Hoefslag)