Beezie Madden becomes the new Rolex Grand Slam of Show Jumping Live Contender !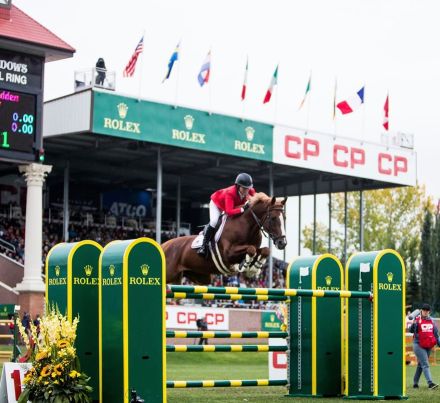 In contrast to Saturday's BMO Nations' Cup, which was bathed in warm early autumn sunshine, the International Ring was overcast and chilly for the final day of the 2019 CSIO Spruce Meadows 'Masters'. An unprecedented 48 horse and rider combinations contended the week's showcase class, the CP 'International', presented by Rolex, for the enviable title of becoming a Rolex Grand Slam of Show Jumping Major winner and securing a place in equestrian history.
Spruce Meadows' veteran Venezuelan course designer, Leopoldo Palacios and his assistant, Peter Grant set the riders from 22 nations a typically tough set of challenges, with the first round consisting of 17 obstacles and the second round 14. Of the 48 starters, 12 riders progressed to the second round, including eight, who were faultless after round one.
But it was the current world number six-ranked rider, American Beezie Madden and her 11-year-old chestnut stallion, Darry Lou, who triumphed, adding just one time fault to her clear first round in a time of 66.94 seconds, and claimed her first Major as part of the Rolex Grand Slam of Show Jumping.
Also clear in round one was Australian Rowan Willis and his 13-year-old chestnut mare, Blue Movie, who put one fence down in round two to finished in second place in a time of 65.93 seconds, while Austria's Max Kühner and his 12-year-old grey stallion, Chardonnay 79 slotted into third with a total of five faults in a time of 66.78 seconds.
A delighted Beezie Madden, commented:
"It feels amazing. This is such an amazing place, it's just an honour to be here. Any win is fantastic, but I have to say, this one is pretty special."I kind of have a feeling that Darry Lou is the fans' favourite because he's so cute. The fans here are great. Obviously, they're very loyal to their Canadian riders, but they appreciate great sport."Today, he [Darry Lou] was just about right. I thought I left him a little too fresh when I was warming up the other day, but I got away with it and he was great anyway. It's nice when you have a plan and it actually works out that way. If anything goes wrong, it's my fault because he does absolutely everything I ask him to do. He has a beautiful gallop and a beautiful jump, and his temperament is amazing. He's careful and scopey, and he's really a pleasure."I wasn't sure if I was going to go there [CHI Geneva] or not, but I guess this might seal the fact that I do want to go there. Winning this is amazing, and trying to win the Rolex Grand Slam, or even a portion of it would be amazing."

Photo:

Rolex Grand Slam / Ashley Neuhof