Martin Fuchs wins on home soil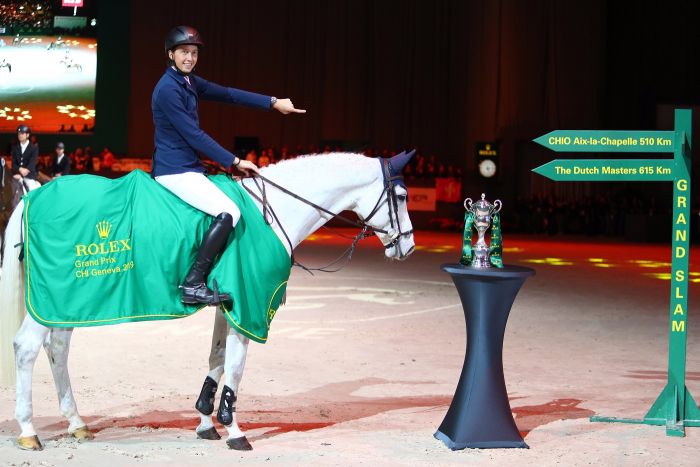 Switzerland's Martin Fuchs becomes the new Rolex Grand Slam of Show Jumping live contender following his victory in the Rolex Grand Prix at CHI Geneva. The formidable duo of Fuchs and Clooney 51 once again showed the strength of their partnership, producing a speedy clear round in the jump-off (38.60 seconds) that proved impossible to catch. Great Britain's Scott Brash was just 0.05 seconds behind his fellow Rolex Testimonee securing second place with Hello Senator and Belgium's Jérôme Guery finished in third.
An impressive course was set by world-renowned course designers Gérard Lachat of Switzerland and Louis Konickx of The Netherlands. This thrilling two stage competition saw 40 of the world's leading riders contest for the Rolex Grand Prix, the highlight of this historic four-day event. The first round delivered 11 clears, including Rolex Testimonees Martin Fuchs, Steve Guerdat and Scott Brash, who all executed expert displays of precision leaving the fences standing.

How does it feel to win your first Major?
Wow! This is a huge win for me, it is certainly a career highlight and tops off an unbelievable year for me. I am so happy.

What does CHI Geneva mean to you now?
It is one of best shows in the world and one that every rider wants to win. I am so happy that I was able to be so competitive at this Rolex Major and to win the Rolex Grand Prix in front of my home crowd is so special.

Clooney 51 is a superstar; how did he feel today?
Clooney is a phenomenal horse and his performance was exceptional today. Everyone saw what he did in the arena, he tries so hard and is just amazing.

In March 2020, The Dutch Masters will welcome Rolex Testimonee Martin Fuchs to the next Major in the Rolex Grand Slam of Show Jumping. The equestrian world will eagerly watch to see if Fuchs can continue his journey as the live contender.