Dinja van Liere to start at The Dutch Masters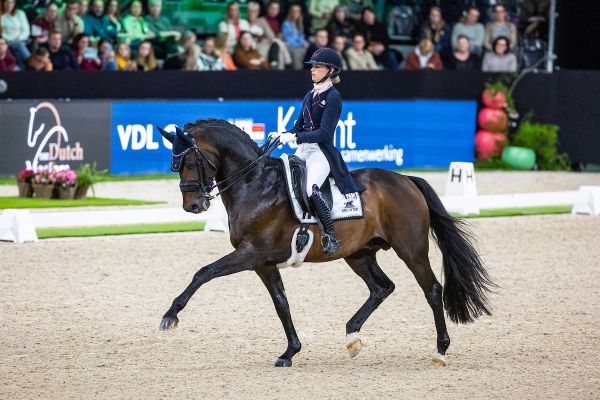 Dutch dressage ace Dinja van Liere will start at The Dutch Masters from 9 to 12 March 2023. The rider who magisterially won the individual bronze medal in the Grand Prix Special and Freestyle at this year's World Championships in Herning, Denmark, is looking forward to it immensely: "I am really looking forward to starting with Hermès and with him, of course, I will try to get into the top three." She attended Indoor Brabanthallen for the first time in 2022. "Indoor Brabant is one of the most beautiful competitions and it feels like an honour to participate in it." For current Dutch Champion and her top stallion Hermès N.O.P. (KWPN), it is virtually a home show. She has been working with Reesink Horses since August 2020 and has quite a few talented young horses and stallions under saddle at the Uden location.
The FEI Dressage World Cup Grand Prix will be held on Thursday evening and the highlight, the Freestyle, is scheduled for Saturday afternoon.
McLain Ward, the new live contender Rolex Grand Slam
American McLain Ward won the Rolex Grand Prix of Geneva with a phenomenal ride on his mare HH Azur, making him the new live contender in the battle for the Rolex Grand Slam title. A title that only one rider has yet managed to win, Briton Scott Brash. This makes McLain Ward automatically eligible to start at The Dutch Masters.
Ward was short of words to describe the feeling after his ride. " What an incredible moment we have had in Geneva thanks to a mare like no other and the army behind her. I find it difficult to come up with the right words to fully convey my gratitude to the horses who make our dreams come true, whatever they may be, to the supporters who believe in us and to the team of professionals behind us whom without their remarkable dedication this story would not be possible," he posted on his Facebook page. It will be Ward's first appearance at The Dutch Masters.
The Rolex Grand Prix is scheduled for Sunday afternoon at 15:15.
You can find the full programme
here
.
Order your tickets in time via this
link
and don't miss anything from this edition of The Dutch Masters!
(Photo: TDM/Digishots)