Willem Greve wins VDL Groep Prize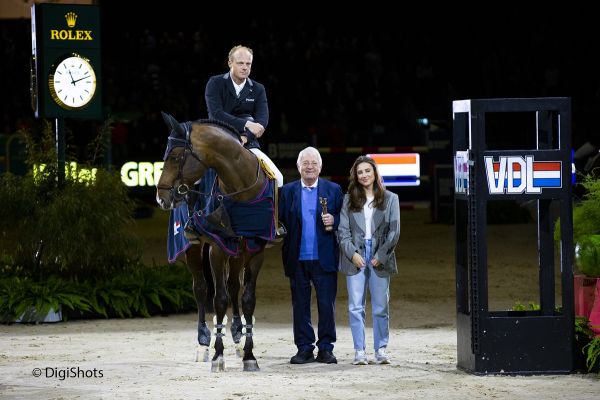 It was Willem Greve who treated the audience of The Dutch Masters tonight to an unparalleled round of the jump-off at the VDL Groep CSI5* 1.55m class. With his Grandorado TN N.O.P. (by Eldorado van de Zeshoek), he outclassed all twelve jump-off combinations with a time of 36.62 seconds.

You could hear a pin drop in the sold-out main arena of De Brabanthallen. Willem had the audience on the edge of their seats, given the sharp time to beat. After jumping even the very last obstacle clear, the applause erupted. Britain's Harry Charles made it exciting with Casquo Blue (by Chacco-Blue) with a fast and clear round, but the combination was eventually a good second short of victory; 37.93 seconds. Kevin Staut took third position with Visconti du Telman (by Toulon). The combination recorded a time of 38.32 seconds.

Favourable course
During the prize-giving ceremony, after the singing of the national anthem, Willem thanked the audience extensively: "It is nice to be back here. In the old setting, with full stands and in front of such a great audience." Even afterwards, the rider from Markelo was obviously very positive: "I am super happy with how Grandorado jumped today. The course suited him very well, with those big galloping jumps of his you get there in no time."

Well-fitting
With an eye on Sunday's Grand Prix, Willem hesitated for a moment about riding the jump-off. "I decided to do it anyway, because he is so well-fitted and you also want to give this audience beautiful sport. Besides, Grandorado is only going to jump finer from it. That playful buck he gives in the course is part of him. You have to give a horse that too. I hope luck is on our side again on Sunday, that would be nice."