Jur Vrieling winner of the Van Schijndel Bouwgroep Derby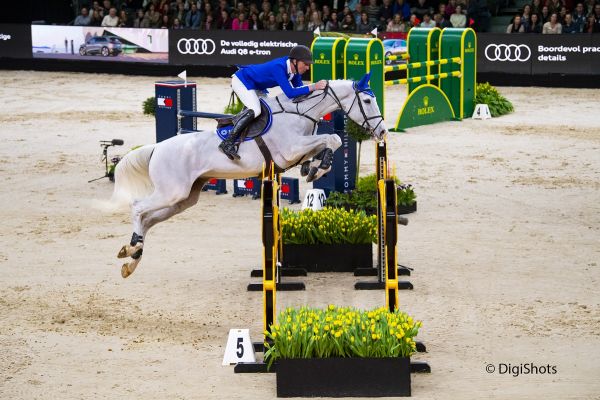 The Van Schijndel Bouwgroep Indoor Derby is a highlight at The Dutch Masters that both audience and riders look forward to. The 16 participating riders really went to the limit. The time was improved each time and in the end it was Jur Vrieling who was fastest and clear with 14-year-old El Rocco (KWPN, VDL Zirocco Blue x Ircolando). "Since I have been competing in Den Bosch, I have always competed in the derby. I think it's a super fun class, the atmosphere is fantastic, the audience really encourages every rider. El Rocco has a very big canter so I could do one less canter jump here and there. Also to the obstacle in the passage he kept going nicely and also the turns went optimally."

Maikel van der Vleuten finished in second place with Kamara van 't Heike (BWP, Epleaser van 't Heike x Carthago) and Irishman Denis Lynch signed for third place with GC Chopin's Bushi (KWPN, Contendro II/Nairobi).